So many of our efforts in schools is to deal with the "problems."  As conscious parents, it is important to realize the vital importance of focusing on the good things around us as much as we can, and to teach our children to do the same.  I can't think of a better way to start 2013 than to focus on the good in our children, and in our schools.
I was so grateful to be on San Diego news 6 this morning talking about the power of kindness, and Kids For Peace's Great Kindness Challenge for schools – happening January 14-18th, 2013.
Currently, there are approximately 200 schools participating in this year's event, from as far away as Switzerland.
If you would like to bring this program to your school this year, it can be as simple as bringing the information and the checklist to your school's principal, and asking them to join in.  While some schools are incorporating a school wide assembly into their week to kick off kindness week, it can be as simple as asking the checklist to be given to each student, and having their teacher announce it to the class.
For more information, to register your school, please visit The Great Kindness Challenge.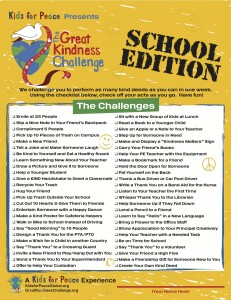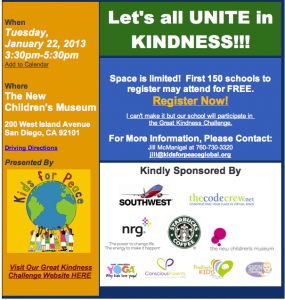 Will you be participating?  Make a difference and let us know!